The Clutha District offers visitors a range of experiences during the autumn season. The district's rolling hills, farmland, and forests come alive with a spectrum of warm, autumnal hues. The cooler weather is ideal for hiking, cycling, fishing, and more.
Here are some reasons why you should consider visiting Clutha in autumn:
1. A photographer's dream - the autumnal colours in Lawrence
The historical gold-mining town of Lawrence experiences a stunning autumn season. During this time, the town is transformed with vibrant hues of red, orange, and yellow as the leaves on the trees change color and fall to the ground. It is a photographer's dream.
2. Cascading Waterfalls in The Catlins
The sound of the cascading water and the rustling of the leaves along the trails make for a serene visit to waterfalls throughout The Catlins.
One waterfall you must experience in autumn in the Catlins is at Purakaunui Falls. The waterfall is surrounded by native bush, which bursts into a stunning array of colours during the autumn months.
3. Clutha Gold Cycling and Walking Trail
In autumn, the Clutha Gold Cycling and Walking Trail takes on a new level of beauty, with the changing colors of the leaves and the cooler temperatures creating a perfect setting for outdoor adventures and take in the natural beauty of the area.
4. Walking Tracks and Trails in The Catlins
The Catlins has many hiking trails that offer stunning views of the landscape. The cooler temperatures in autumn make for more comfortable hiking conditions, and the fall foliage adds an extra level of beauty to the scenery.
Check out the interactive Tracks and Trails map here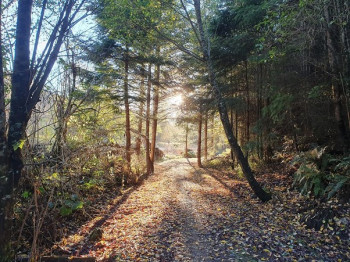 5. Time to cosy up!
As the weather begins to cool, it's also a great time to visit the local cafes and restaurants. Enjoy the hearty comfort food and warm drinks, after a day spent outdoors in the autumn air.